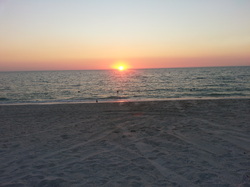 I was inspired by an autistic girl's crystal clear voice singing the National Anthem this week.

The doctor who survived Ebola helping the infected.

A friend who took time to walk with a man and listen to him grieve for the wife who passed suddenly. He thanked her, and told her how much it helped him.

All around the world while the bad events are happening, the good ones still outweigh them. And God is so good. He's powerful and only a prayer away. I asked Him into my heart when I was five years old, so you can imagine the kinds of things I asked, but He's always there for the little things and the big things in my life. I like that He's just a prayer away. Tonight, I'm thanking him for this beautiful sunset.
What good thing have you heard about or that's happened to you?